Everyday Life
http://maps.google.fr/maps/ms?msid=200965993097799504753.0004b036906a78011a4a5&msa=0&ll=44.024422,19.863281&spn=30.094135,56.162109
I realized some time ago this blog drastically lacked (among numerous other things) an everyday life content: pics of how I survive.
Well, I still have no pics of fishes or rabbits, that I promised to Pierre, but here's what I have:
My clothes hanging down a palm-tree.
My shoes were destroyed by ten months of harsh hiking. I found leather, rusty nails and rubber, and here's the result: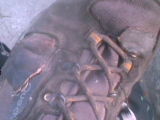 Army everywhere: US Marines, Navy, UN.... Arrgh. I feel stressed. Francois always mocked my paranoia of authority. Gasp.
Timor-Leste. There's too much to write on this emerging country. Lots of hope - lots of dead-ends as well. No one can tell how Dili's gonna look like in a few years, and certainly not me. What I see is they manage more cultural freedom here than in Indonesia.
Average monthly salary of a Timori (actually earning a salary): 320 $
Average rental price of a house with current water and electricity, isolation and a fridge: 500 $
UN diplomats salaries in Timor Leste: from 8 000 $ to 30 000 $
...
Hanging out with cool dudes playing metal and singing in tetun (the traditionnal language) - awesome. I feel really lucky to be here at the cradle of this naiton - everything seems possible.
I have three boats in scope heading for Darwin in a few days. No certainty yet. I cross my fingers.